mobile clay shooting
We currently have 4 fully automated 'Promatic' machines, (the finest in clay traps), ranging from simple single throw to 'Rabbit and Teal' and the ultimate 'Huntsman XP' simulated game machine.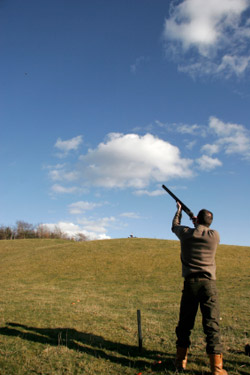 All guns, equipment and safety items can be provided if required but participants are requested to wear comfortable, shower proof clothing and suitable footwear.
Clay shooting is by far the most popular form of corporate hospitality and provides an exhilarating way to promote your business, entertain customers, motivate staff and have some fun. We can provide a full hospitality program if so desired with an 'Alfresco' buffet and programs to suit half and full days. Each event can be arranged to suit any budget and as we are fully mobile we can come to land near you (subject to site survey) to save on your travelling time.
Simulated game shooting is a very exciting and fast experience but only costs a fraction of what a day's real game shooting costs.


We bring the excitement of clay shooting to you for any kind or size of party or just a few hours in the afternoon. We organise everything, to cater for the complete novice to the veteran shooter.
Novices may be required to stand inside purpose built cages when shooting for safety reasons.
Simulated game shooting and clay shooting for corporate events, get togethers or for a group who wish to practice between seasons to get ready for those expensive driven shoots.
The 'Huntsman' launches clays in quick succession and in all directions, a service that pushes the limits beyond normal clay shooting. You will have the opportunity to shoot hundreds of cartridges at thousands of clays.