clay pigeon traps
Run by a CPSA Trade Member and CPSA Safety Officer and enthusiastic shooting helpers. We are a mobile clay shooting business offering a range of realistic clay shoots designed to meet your needs.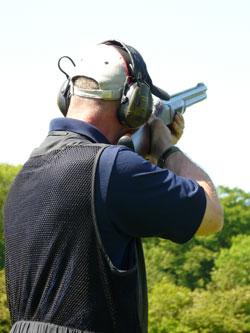 We are able to bring the shooting experience to your land host at our site for that exclusive shooting venue. You will find a friendly, relaxed and welcoming atmosphere whilst trying your hand at clay / simulated game shooting.
Whether shooting on a regular basis or are looking for team building or to entertain guests, we have something to suit everyone. We cater for all types of groups including, stag, hen birthday and corporate events, and are able to cater for clubs or groups of up to 20 people.
All of our equipment is mobile so we can travel anywhere.
We can even cater for guests that don't hold shotgun certificates or have their own shooting equipment.
For those of you requiring between season practice AAR offers simulated game shooting, using the 'Promatic Huntsman XP' simulated game machine, the ultimate in clay shooting traps.
Not only do we offer a mobile service for conventional clay shooting with guns and live ammunition, but we also offer a service for village fetes, garden parties, family reunions etc with the 'Lasersport' shooting system which can be used outdoors or


indoors and only fires infrared beams so no licences or police authority is required.
Clay shooting is a fast growing, exhilarating, addictive sport and leisure activity that rewards all participants with a sense of achievement.